amy
This user hasn't shared any profile information
Posts by amy
What a great end to a great week!  Everyone survived the late-night stargazing last night and came back ready to finish the week.  We started the day learning about astrobiology and what makes a planet habitable. We then had a visit from ACCHaos, the Austin Community College Physical Science Department's hands-on science outreach program. Take a look at the photos below to see how fun learning can be! The day ended by seeing scientists search for extremophiles (life in extreme environments) on Earth in the IMAX movie "Amazing Caves" followed by a creative, alien making project. Thank you campers for a great week!
Astro Camp has been great this week so far. Monday we learned about stellar evolution, had the chance to look at the Sun through Erika's H-alpha solar telescope and see solar prominences and sun spots.  The campers saw some sunspots through my sun-funnel setup on my telescope as well.  The kids got to take home solar viewing glasses.  They learned what life would be like without supernovae (not existent!) and how black holes work. And everyday, they get to experience the inflatable planetarium! Today, we focused on the solar system, make a comet, learned about comet orbits and got to hold real meteorites. Thank you Russ FInney! Thank you Erika from the Austin Astronomical Society! More photos to come from Monday…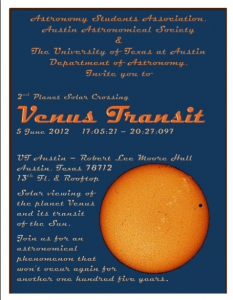 This Tuesday, June 5th the Austin Astronomical Society and UT will be hosting a Venus transit viewing event on top of the RLM building on campus at UT.  Check out the flyer I posted above for details.  This won't happen for another 105 years!  Check it out! Visit earthsky.org for more information.
This Monday morning look west for the Moon around 6:00am.  You should see the Moon in the middle of a partial eclipse.  For more information please visit one of my favorite sites: earthsky.org  If you want to know more specific times for viewing from our location visit this lunar eclipse computer.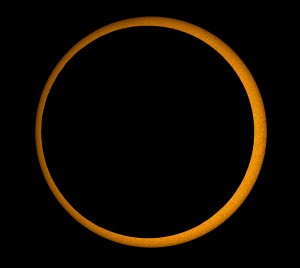 We won't be in the best viewing spot to see the annular solar eclipse, however we will be able to see less than half of the eclipse before sunset here in Austin.  What we can see here will begin at 7:35pm and the maximum annular eclipse we will see will be at 8:20pm.  Remember to not look at the Sun with your naked eye.  To learn about eclipse viewing safety visit: http://www.perkins-observatory.org/eclipsesafety.html#methods
For a table that shows viewing times from locations visit: http://eclipse.gsfc.nasa.gov/OH/OHtables/OH2012-Tab03.pdf
For more information about annular solar eclipses visit: http://eclipse.gsfc.nasa.gov/SEmono/ASE2012/ASE2012.html
For a great article with a great picture of what is possible to be seen in Austin visit: http://earthsky.org/space/for-u-s-observers-annular-or-ring-eclipse-sunday-may-20
amy's RSS Feed